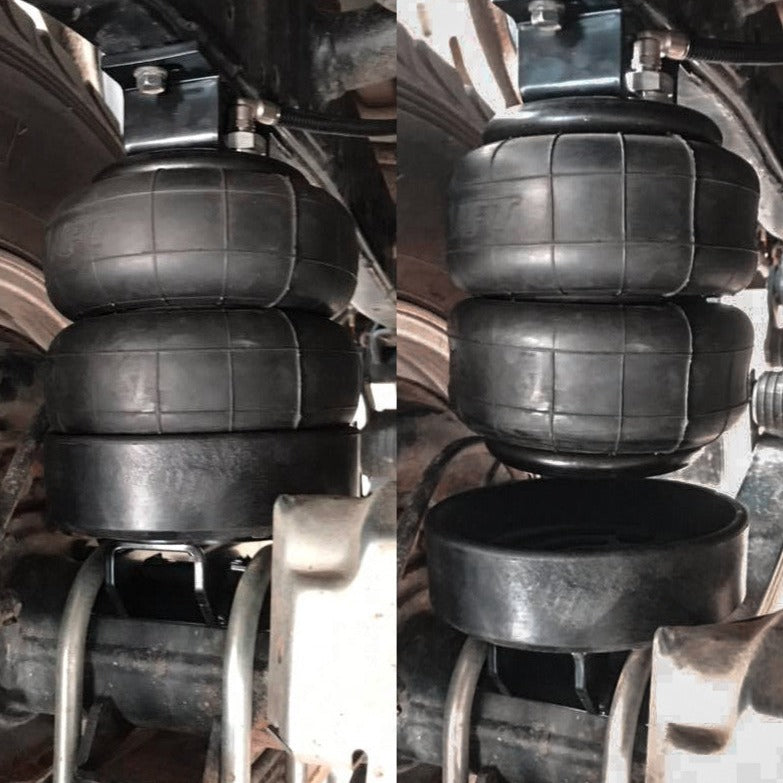 ---
RAM 2500 DJII Polyair Airbags
---
So you bought a RAM 2500 and now you want to tow - that's the purpose of the vehicle right? When you put load on the back, your vehicle may sag a bit if you don't have the right suspension setup.
You can see our 2" Lift Kit suspension upgrades with heavy duty coils here.
Airbags are a great way to help keep your vehicle level when putting on your caravan / trailer. By keeping your vehicle level, your vehicle will be safe on the road and provide the optimum handling.
Notes:
Polyair Double Bellow Ultimate Plus 2-Ply Fabric Reinforced Rubber Airbags that sit beside the coils.
By inflating the airbags, it will physically lift the body from the diff, raising the rear height of your vehicle.
Can be inflated before or after the load is put on.
Handles sway & body roll really well. A must have if you have a canopy.
Contains an internal bump stop, so there is no minimum psi requirement.
Same size bag for 0-2" lift. If getting a 2" Lift, we include an Airbag Cradle Kit which disconnects the airbag at full flex and reconnects once it comes back in contact.
This is the ultimate solution for those who are serious about touring and want the best in ride comfort and safety.
Kits are supplied with manual inflation valves that get installed to the rear bumper.
To inflate your bags you can: