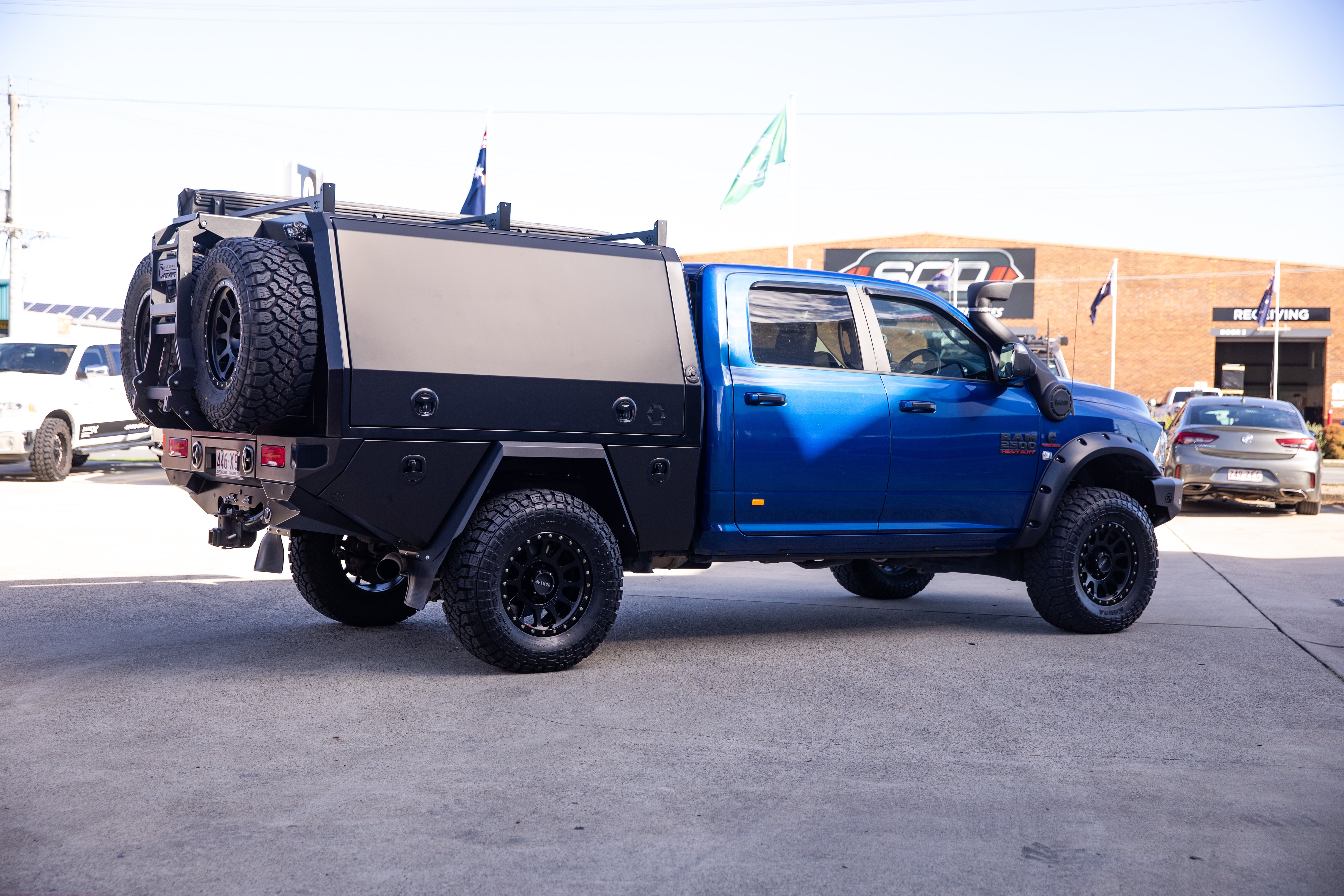 ---
RAM 2500 (DJ) GVM Upgrade
---
*$200 Surcharge for NSW Accreditation
If you want to increase the GVM (Gross Vehicle Mass) for your RAM 2500 (Mid-2013 Onwards), then come check us out at SCD Performance - we manage the whole process for you.
Each vehicle has been assigned an allocated gross vehicle mass (GVM). This is the maximum a vehicle can weigh when it is fully loaded. You need to factor not only the weight of the vehicle, but everything that is added to it including; passengers, fuel, accessories, cargo, tools, tray body and also the tow ball load that is applied by a boat or camper trailer.
If you exceed the limits that is set by the Australian Design Rules (ADR) approval process, you could receive a costly fine and possibly void your insurance.
To stay safe on the road, the SCD Performance engineers have a process to upgrade your GVM which will allow your vehicle to carry more weight.
We upgrade the suspension and run some thorough tests to meet the minimum ADR safety requirements. We then put on an upgraded Compliance Plate which then allows you to re-register your vehicle with the new, increased GVM.
The GVM upgrade will take the RAM 2500 from 4.5t to 5.3t giving you an extra 800kg of payload.
This GVM Upgrade includes:
New Heavy Duty Coils (either stock height or 2" lift)
New Shocks
Installation
Engineer's Report & all the necessary inspection certificates required for Transport & Main Roads
Heavy Vehicle Road Worthy Certificate
HVRAS Inspection
Shock options:
EFS 2.5" diameter monotube shocks - EFS are an Australian company who have been providing shocks to the Australian market for over 20 years and we offer shocks for the RAM s in only their heaviest duty and most premium offering, the X-Treme series shocks.

Radflo Remote Reservoir Shocks with Compression Adjuster - hand made in the USA by Radflo and provides the best possible ride.

They're in the same realm as Fox & King Shocks but at a much better price point.
Wheel & Tyre Fitment:
Customer supplied wheels & tyres can be installed for an additional $170, which includes the recalibration of the speedometer to match the new wheels & tyres as well as the changing of the vehicles minimum PSI warning to 30psi to allow for the tyres to be run at a lower PSI than factory when required while keeping the warning system active for the case of a blown tyre should that occur.
*Only Suits Mid-2013 to 2018*
*Only suitable for QLD & NSW registered vehicles*