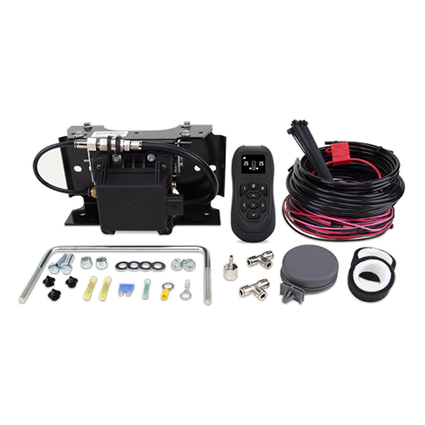 ---
Polyair Airbag Cordless Compressor Control Kit
---
Let's face it, you're not going to continually check your airbags to ensure that they're holding the right pressure in them with your portable compressor. 
Behold, the ultimate solution to keeping your vehicle level and riding smoothly. This Polyair Wireless Compressor Kit allows you to inflate your airbags with a digital remote that also shows the PSI reading. 
If you have more weight on one side of your vehicle then you can adjust accordingly with this dual path kit.
Effortlessly adjust the airbag height with the touch of a button.
Integrated PSI reading on the hand held remote, allowing you to view the PSI when outside of the vehicle.
Program your own presets to automatically adjust the pressure based on the load you're carrying. We recommend:

1) Vehicle Unloaded for daily driving
2) Vehicle Loaded for day trips / weekend away
3) Vehicle Loaded with Caravan/Boat

The Compressor will automatically inflate / deflate to the PSI setting, keeping you level on long drives.
This kit is best paired with the Polyair Double Bellow Ultimate Airbags.